So by now I'm sure a lot of you have already seen Zach Bruch's "Summer Nights Montage" because you're all so internet savvy and what not.  If you have already seen it, I'm sure you were all just as impressed as I was.  If you haven't, I don't want to tell you you're blowing it, but you're definitely not as up on things as you could be.
I think what really got my blood up about this one was that, first of all, it's just a really well put-together clip full of good skateboarding, and secondly, I never saw it coming.  These days it seems like even the most rushed-together of montages are hyped up for weeks before they drop.  I'm not saying that's a bad thing at all, it's just sort of the status quo right now.  What I'm saying is that it was really cool to be totally caught off guard by a very enjoyable video.  It's not hyped up, it's not overdone, and it's not in anyway trying to be something else.  It's the clip that Zach Bruch wanted to make, and he did a hell of a job making it. I recently had the opportunity to talk with Zach about skateboarding, filming, and his process of making the "Summer Nights Montage."  Here's what he had to say:
Let's start with the basics, where are you from, how old are you and how long have you been skateboarding?
I was born in Easton, Pennsylvania, I am 22 years old, and have been skateboarding for 10 years.
So after watching your Summer Nights montage I can see that you're definitely good at filming and editing, but you're also really good at skateboarding. What made you decide to pick up a camera and start making videos?
When I first decided to start making videos it was a few years after I started skateboarding. My friends and I would skate all around the Lehigh Valley and fuck around. My parents ended up buying me a video camera, a handle one that took mini dv tapes. I don't remember what kind though.  I ended up starting to film and then not do much with any of the footage. A few years after that, my friends ended up getting more into filming as well and I eventually ended up starting to use better cameras and lenses . Long story short, my friend Dylan bought a vx2100 setup with a lens and he ended up going to Shields Skatepark and put his bag and setup all behind a few storage boxes, and when we went back to get it it was gone some had stolen it. So I eventually started saving up to buy my own setup and found a Panasonic Dvx100a on skate perception.  It started there and I've been filming ever since.
A lot of the clips I see these days are just sort of filmed one day and put on youtube the next. I really liked that you took the time to put together a nice long montage that you obviously put a lot of care and effort into. Was that the way you had it planned all along or did it just sort of happen?
I planned on making it long from the start.  I knew that a lot of my friends and the kids around the 610 have a lot of potential in skateboarding.  I ended up getting a lot of raw footage from my homies and kids i skate with daily, then just started throwing clips together and started editing to what I felt went good .
It's cool how you have so many different parks and spots from all over the place represented in the video. Was there anywhere you really wanted to go film but just didn't get the chance to?
Yes.  I haven't been to any of the major cities for some street skating in awhile, so in the near future there will be spots from Philly, New York, and other cities in the next montages.
I couldn't help but notice Andy Po had a trick in there. How did you get him to stop working and/or eating long enough to film something?
Me and a few homies decided to hit up the Bethlehem Skateplaza for a few hours. Andy ended already being there when we showed up.  We all ended up skating together so i decided to film a bit.  He ended up landing the frontside noseslide on the slant to ledge.  Pretty fucking sick if you ask me.
There are a whole bunch of people doing some seriously good skating in this montage. Want to give any shout outs?
I'd like to give a shout out too my family, girlfriend, all the homies for being there, and a shout out to all the local skateshops, skaters, supporters, filmers, and photographers for supporting the skate scene and holding it down in the 610.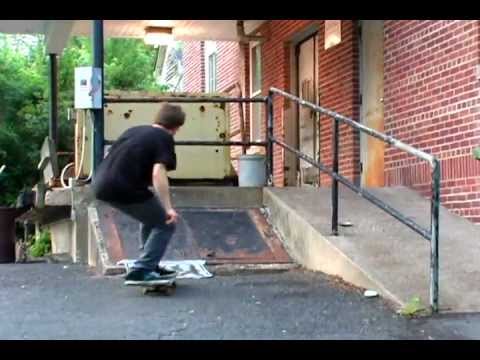 Alright Zach, thanks a lot for doing this.  Let's skate again soon.
Comments
comments