How fitting this wrap up on the 8th Annual Homebase Halloween Jam is happening on our weekly Procrastinate Now post.  It was only almost a month ago.  But in my defense there was a lot happening after the jam took place: Hurricane Sandy, Shortwave/Snake Side Premiere, Phase 2 opening and the ongoing Black Friday Benefit Sale.
Thanks to Matt Pepe, Matt Andersen and Chris Viella for filming and shooting the event and of course, thanks to all the skaters that came out regardless of the forecast for another fun event.  The Halloween Jam is hands down my favorite Homebase event to host.  We'll keep doing it as long as you keep coming out and skating.
Good having the 5Boro Crew out for a little bit.  They had to cut out early because Hurricane Sandy was on her way and the tunnels into the City were getting closed.  Glad all those dudes are safe after the storm.
If you weren't there you missed a good time: Hill and Po as Juggalos, some amazing Games of SKATE, a hilarious Longest Powerslide Contest, Dylan Daney going big (as in this photo), the Birthday Boy Luke killing it all over the park, Eric's High Ollie hops. . . .
Izzy's kickflip front feeble on the flatrail . . .
New the the Halloween Jam and thought up the night before: A footrace to pumpkin pie eating contest. . . .
Of course the annual Downhill Deathrace.  No one "died" literally. . .
The "Braveheart-style" product race is always a good time.  Luckily no one got trampled. . .
The 2nd Homebase Halloween Jam Photo for the crew that came later. . .
Just watch the videos and peep the rest of the photos at the bottom of the post.  See you next year y'all.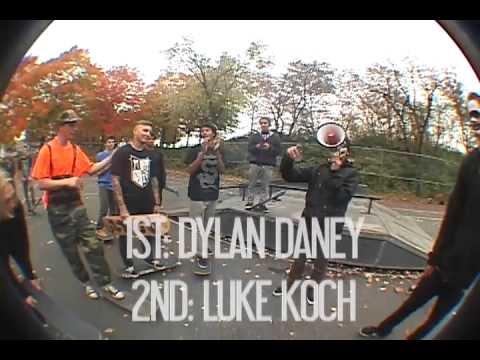 The 8th Annual Homebase Halloween Jam
The Skateplaza S.K.A.T.E. Showdown Wrap Up.
Another Game of SKATE Tournament came to a close at the Halloween Jam.  It started at the skateplaza, held a few matches at Saugy, some rained out matches were played in the shop.  MOST skaters donated the $20 so we could award the winner with $300 and make a $300 donation to the skateplaza.  We got a little behind on the video posts but here's the Week 10- The Final Match for your viewing pleasure: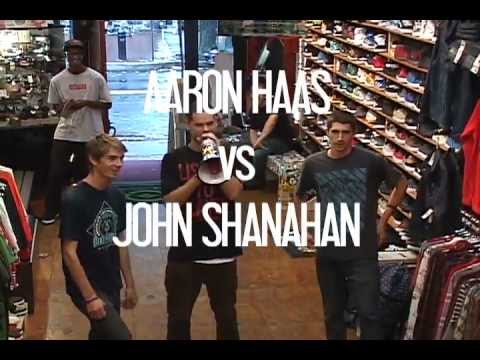 Week 10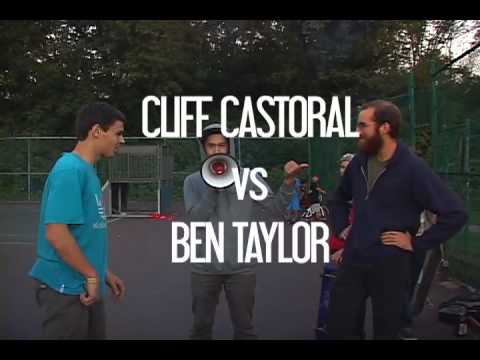 Week 11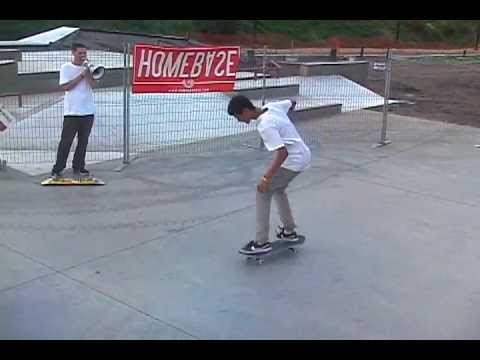 Quarter Finals Part 1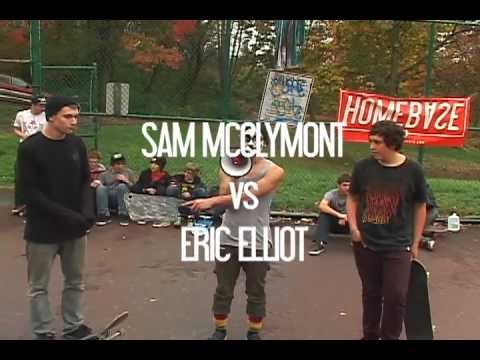 Quarter Finals Part 2 & The Semi Finals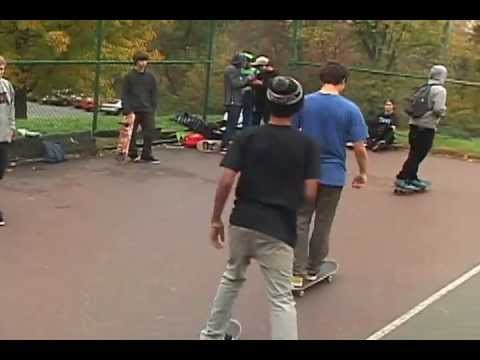 The Final Match
Thanks to everyone who participated in the tournament.  Should we do it next year?