As of now, there are 13 days left until this year's incarnation of the Homebase Halloween Skatejam.  That means costumes, hotdogs, candy, contests, giveaways…and the world-famous Downhill Deathrace.  That's right, for those of us here in the Lehigh Valley, Super Bowl Sunday falls on October 28th of this year, and as tradition dictates, Keck park (Saugy if you know) will play host to the event.   If you've participated in the Deathrace before, you have some idea of what to be expecting this year.  If this is your first year, or even if you're just hoping to fare a little better than in years past, I present to you this gift:  The Complete Guide to Surviving the Downhill Deathrace.
Tip 1: Powerslide.  So you're standing at the top of the hill, and it really doesn't look all that steep, does it?  Well it is steep.  And winding.  And crowded.  I strongly recommend taking a lesson from 5Boro's own Rob Gonyon and sliding around those turns.  The challenge does have the word "race" in it, but make sure you keep in mind the word "death" is in there too.
Tip 1, part 2:  Layer.  Road rash doesn't have any respect for how many thrift stores you had to go to, how funny your hair cut is, or who sewed your costume.  You know what road rash respects?  A dude with several inches of foam between his ass and the ground.  The guy dressed as a dinosaur behind Rob here might look a little silly, but i bet he used less Neosporin than you had to after last year's race.
Tip 2: Be aware of your surroundings.  So the powersliding thing didn't work out for you and now you're careening perilously down the hill.  Now it's time to look around, and carefully select what you are going to use to put a sudden stop to all that forward motion.  This is one piece of advice i can not stress enough: aim for something soft.  It's always better to have a shirt full of grass than a mouth full of gravel.
Tip 3:  Never forget tip 2.  I said aim for something soft!  Those boxes are there for a reason…
Tip 4: There's a gravel pit there.  I certainly can't tell you there won't be gravel anywhere else, but I can promise there will be right there.  That's your only freebie, use it wisely.
Tip 5: Use the course to your advantage.  While that kicker on the hill might look a little intimidating, or even dangerous, try thinking of it this way:  less time on the ground means fewer chances to hit a rock.  Besides, this probably won't happen to you….probably.
Tip 6: Get Low.  Kurtz knows the deal.  When you hit that final straightaway, it's time to move.  It's a race to the finish, and only the most aerodynamic can win.
Final Review:  Keep your speed in check, stay alert if things go wrong, and pay attention to everything and everyone around you.  Do all of this and who knows?  You might just walk away with the W at the 2012 Downhill Deathrace.
Po's Tip:  Learn from other people's mistakes . . .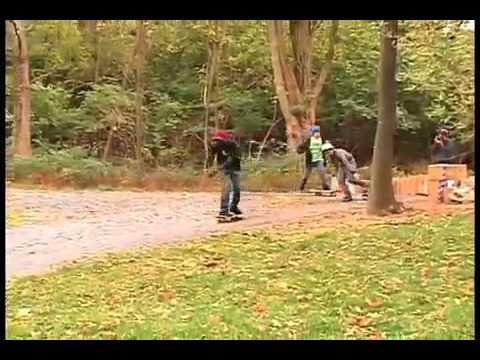 The 2010 Hallowem Jam . . . the most reckless ever.  (Clip starts after 20 seconds of black.)
Oh, right.  I just remembered there are going to be zombies all over the place this year.  But they already have guides for surviving those, right?  See you at Saugy!
Comments
comments