On Saturday August 25th Homebase had the pleasure of hosting the Supra Footwear team for a signing & demo in the 610 just a week after the L-R-G team came to town.  Fortunately for us and everyone who came out, the weather was a lot more cooperative and the Supra squad led by Erik Ellington crushed it at the skateplaza for the masses.  Would have been dope to see Stevie come to town but he had a family emergency to attend too.  Can't hate on that.
Thanks to everyone at One Distribution & Supra Footwear who made this possible.  Thanks to the Supra Riders: Erik Ellington, Neen Williams, Bjorn Johnston, Boo Johnson, Kevin Romar, Spencer Hamilton & Furby for coming out and putting it down for the kids like true professionals.  Always have to thank my Homebase Crew for giving me the support to make these events possible.  Media coverage by the best team I've ever worked with: local videographer Matt Pepe and photographers, Mike Panic & Jamie Heim.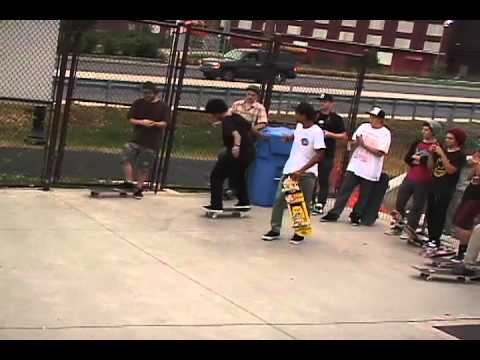 Homebase x Supra Demo at the Bethlehem Skateplaza.  Edit by Matt Pepe
Thank you especially to everyone who hung out at Homebase for the Supra signing.
We took over the block.
I guess telling everyone that we'd be giving out free Supra hats & t-shirts to the first people in line helped . . .
Welcome to the 610 Supra.
The autograph table is set.
A proper autograph kit:  Sharpie, Yuengling & Coosie.
Mutha-fucking @Ellington_Deathwish.  Excuse my language, I'm hyped.
@Neenobrown.
@KevinRomar.
@NickFucker.
Keeping that line moving.
@bjornj.
@BooJohnson1.
@Monsantokills.
Slap, slap, pound.
Supra is for the kids!
Almost done.
DC Shirt at a Supra signing!
@Furbzcinco was hurt but he made sure the kids were hyped. . . .  or did he make sure the Vita Coco girls were hyped?
Last one.  Skateplaza-bound.
Furby was hurt.  I bet he would have done the volcano-gap.
Really psyched on how crowded the plaza was for the demo.
#back2base
Right to the gap.  Ellington on deck.
What shoes were they all wearing?  The Ellington- now available at Homebase.  (hint, hint, wink, wink)
360 Shuvit by The Mule
Runway lurkers.
Nollie back heel like butter by Kevin Romar
This trick should be named after Kevin Romar.  Done so smooth.
Neen grinding into a back tail for the China Bank lurkers.
Nick Tucker switch front feebles for the landing lurkers.
Spencer Hamilton silently KILLED it.
Fakie bigger flip (right?).
Frontside flip over the rail.
Hyped for the homie.
Next up.
Bjorn Johnston has been in the game longer than you might realize.  He skated the hardest in my mind.
Switch nosegrind.
Boo Johnson was probably everyone's pick for the demo MVP though.  He did kill it.
Front bigspin.
"The crowd pleaser" from Neen
That catch.
Full cab.
Erik didn't want his headphones.  Little homie did doe.
Nollie flip.
#back2base
If you were on top of the China Bank and turned around, you might have seen Boo Johnson effortlessly throw kickflips and front 3′s over the doorway.  Steinert saw it.
Ladies with delicious beverages.  Thanks for coming out Vita Coco!
Cap Cee kept it in the trap by special request.
You see that nollie inward heelflip?
Yeah, it's on Instagram.
XXX
#back2base
Purp.
Glad you could make it Mike.
Boo Johnson.  Fakie tre.
Darkness!
Shutting it down with a signature Erik Ellington switch frontside flip.
The best way to clear out a skateplaza is to offer free hot dogs.
Thanks for coming out and hooking up the kids Easy Weenies.
Ghost.
Thank you 610.  Thank you Supra.
As you can see there's a lot more getting build in the Bethlehem Skateplaza.  Keep respecting the spot and we'll keep having events like this.  Just wait to see what goes down when the 10 set goes in this Fall.
See all of the Supra Signing & Demo Photos below.
Comments
comments