It's been a while since we sat down with our friend Ray Gurz– mainly because he's too busy working at one of his 50 jobs and/or hobbies.  But since Lost Soul Skateboards and Homebase are collaborating on a pretty awesome idea this Spring, I figured it was time to track him down.
Homebase:  So it's been a minute since we caught up.  We almost lost you to UPS…literally.  What happened over there?
Ray Gurz: A driver clipped a grate I was standing on and it was like an earthquake where I was standing.  So as I was on it, these 4 grates just started moving and I had to jump to each one and hope I didn't get hurt.  Let's say, I yelled louder than hell at this guy.  I thought for sure that my life was over.  I made it out alive and since I wasn't hurt, UPS just moved on.  That is why I love it there (please note heavy sarcasm).
HB:  Being that you've been a local supporter/flow trash rider for CONS, what was your take on the 48 Blocks x Pops article?  Has CONS exploited Ray Gurz as well?  (Remember this edit Ray?)
RG: CONS has not exploited me one bit but I am on the flow trash program so I wish I could be more solid but I am grateful for where I am.  I wish they would exploit the bands I am in and my skating.  As far as the Pops article, it is a eye opener for many to review your obligations and contracts in this biz. You can get taken advantage of quickly or just ignored.  I would have been more thorough only because that Pops shoe was really tight and people were digging it.  I probably would have followed up a bit more.
HB:  What have you been doing to keep sane through the East Coast Winter?
RG: I've been skating outside on 25 and 35-degree days. Bundling up for sure.  I've also been bowling a bit. Once a week for the league I am in and then an extra night I head to the lanes to get rid of cabin fever.  The bands have had a busy winter so shows have been more than usual and that is a cool thing.
HB:  I always say you're the hardest working skater in the Lehigh Valley.  I only have one job but you have 2 jobs, a skateboard company and 2 bands to deal with.  The one band, Bad American just released a new record- tell us about that and where we can buy.  But, if we do, will it make us bad Americans?
RG:  I am busy but know if I wasn't doing it I'd be pretty bored.  I've been told I am impatient and can't sit still. That is mostly true until I pass out from being too tired.  The new Bad American 7" record just dropped this past weekend.  It is called Bruises and it's on 1124 Records.  It's limited to just 300 copies and you can get it from the label's site or from the band as well.  Will it make you a Bad American? We all are not perfect.  Day in and day out, we all have flaws, we're rude, crude and disrespectful.  But who isn't?  Here is a song from the 7" called Mad Tenant.  (Note from HB: cover art done by local artist and skater, Giancarlo DeMarchi.)
HB:  I heard rumors of a European tour.  When's that happening and if I work the merchandise table will the band pay for my airfare?
RG:  Another label from France called Shogun want us to come overseas for sure on.  They said they'd be more than happy to put out our next full length too.  Funny how the Internet works right? Unfortunately the entire band can't take off from work, so no Europe and no merch table Po.  I was going to sneak you into my luggage.
HB:  And your other band, TILE putting out an album too?
RG:  Yeah, the TILE album is called " You had a friend in Pennsylvania" which will be put out by Limited Appeal Records from Boston/LA.  That should be out in a month and can be purchased off their website.  So, now you can see why I've been swamped since the end of the year last year and can barely hang out.  We've been sending tracks out to people to check out and have been getting very good responses.   Let me know what you think of Snakewoman off the new album.
HB:  Lost Soul just put out a short clip at the skateplaza including some skaters we didn't see in Modern Needs.  Who's the new blood and why are you making them kill themselves on the kinked rails at the 'Za?
RG:  I make no one do anything they don't want to do.  I do, however, encourage them through sarcasm to film cool shit when I know they can do it.  I think I have always had a trait in me to motivate my friends to push their limits sometimes because well, what if the world ends?   Or what if you have something tragic happen to like getting into a gnarly car accident? Shit, what if you have something and become bed ridden? Years ago, my doctor told me that I had a form of cancer.  It's curable but I still have it until I have surgery.  I can assure you, that is why I try to get as much out of live as I can.  So for Lost Soul, Tyler and Jake are some newer guys who go out and skate. They see where the brand is and just support it because we are not trying to be who we are not.  We skate awful spots and see skateboarding differently than most. They are what Lost Soul is.
HB:  I was also pysched on seeing the raw footage from the old Nuke the Za' edit get posted but everyone's waiting for this 2-song Lost Soul video.  What's the damn hold up?
RG:  We wanted to release the Lost Soul "2-Song" video in collaboration with the new Homebase video, "LEMMEGETDATFOOTY."  Max and I set a date to finish it a month ago and we were only 2 weeks behind schedule.  So, everyone, IT IS ALL PO'S FAULT WHY YOU CAN NOT SEE IT YET!  I love ya' Andy like a kid loves candy but GET IT DONE. 

HB:  Oh yeah, I do have to finish editing that video huh.  Well, I've seen it so without giving it all away, what was the inspiration behind the direction you and Max went in with this one?
RG:  Max and I want each video we make to represent the company as a whole, as best as it can.  We took some stabs at a more original editing style and thoughtful selection of what footage we used and didn't.  I remember watching skate videos from the 80's that impacted me and who I am today.  They weren't just videos that were a flash in pan.  There was something to them that made you go out and skate what was thought to be un-skateable and we'd watch them over and over again.  We also didn't want to do anything real long and the music choice is different this time.  Oh, there's Also a new guy from South Carolina making his Lost Soul debut.  A rad attitude duder named Irving.  You will see!
HB:  What else should we be looking forward to this Spring for Lost Soul?  New deck graphics, more collabs or any local events?
RG:  We are behind on the Spring/ Summer catalog but we don't care.   It's been snowing a lot lately so I know we can fine tune our shit in the next couple of weeks.  Local events?  Hmmmmm.  Yes, we are doing the first ever King of the Valley which is like Thrasher's King of the Road this Spring.  I have always wanted something like this to happen here in the area.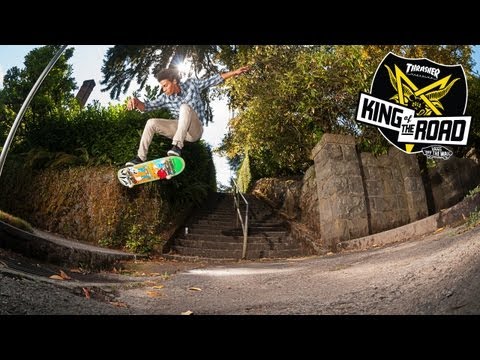 HB:  Oh yeah, we are doing King of the Valley together aren't we!  How did I forget and wasn't it weird that you were almost prompted to talk about it?  How random!  So when did this idea come about?
RG:  It is funny how forgetful you can be.  That smartphone didn't remind you this time.  Anyway, we were at a shop meeting and were talking about good ways to get more skaters involved with the local scene.  Why don't we do a King of the Road but for the Lehigh Valley, KOTV?  I think we could have reasonable challenges and fun hi-jinks to make it a blast for everyone.  Lost Soul is sponsoring part of it along with Homebase plus a few others I'm assuming so it will be sick.
HB:  What kind of challenges can the teams look forward to and who thought up all of this?  Give us a lil taste.
RG:  Billy Kurtz, Dave Hill and myself sat down and worked on all the challenges.  You also had a say in it Po.  I think there is a considerable amount of both hammers and hi-jinks.  One of my favorite challenges is getting our local boneless champ, Karl to not do a boneless all day.  A big point of the whole thing is getting the younger generation to know the roots of the scene and getting some pioneers of the LV skate scene to do some tricks.  I can't give out all the fun details but it will be really fun to see everyone's edits and challenges.
HB:  Yup, I made sure there were challenges that involved me and food consumption.  So when will KOTV get started?  Give us the details the people need to know.
RG:  We actually need to talk about that but I know you you can have up to a 5 person team, which includes the filmer who can use anything from a VX to a iPhone to document the challenges.  Each team will put in a $25 entry fee so think of it as $5 per person and the team with the most points when the challenges are done, WILL TAKE ALL THE CASH and prizes will be given out too.  This is for everyone.  It's what skateboarding is all about- just having fun with your friends.  So, grab your 5 friends and stay posted because this will start soon.
HB:  Yup, it's all about having good times with your friends on your skateboards.  We'll have the full details on how to sign up and get your hands on the booklet of challenges VERY SOON.  So Ray, anything else you want to add?  Shout-outs?  Shit-talk?  Pillow-talk?
RG:  That's pretty good.  Remember to always support the local shops and biz in your area.  Be on the lookout for the new Lost Soul Skateboards products coming this Spring/ Summer, both records of TILE and Bad American and check back here for the details on King Of The Valley.  Thanks to you Andy, Homebase Skateshop for hooking this up, CONS and Brixton for support and lastly my wife, Michele for being there on this crazy ride we call life.
HB:  There's a Mrs. Gurz so where are all the Baby-Gurz's?
RG: Baby Gurz's?  Oh, well there's Zero and Stanley my pugs.   They are upstairs either sleeping or shitting by the front door.  I am going to go let them out right now.
HB: Thanks for sitting still for us Ray.