Can't thank Vans enough for the chance to see legendary skaters like Steve Caballero, Lance Mountain and Christian Hosoi skate the Chelsea Piers Bowl at the 2012 New York City Bowl-A-Rama contest on Saturday last weekend.  Spent the rest of the time out skating on the (potentially) last weekend of warm weather and nights attending Vans events celebrating the 20th Anniversary of Steve Cabs pro model shoe, The Half Cab.  Not a bad weekend in the Big Apple.
Met up with Eric Elliot, Andrew Colbert and Geech at the new-ish L.E.S. Skatepark before the 20th Anniversary Half Cab Party at the House of Vans.  One of the funniest skateparks . . . when not swamped with kids.
Welcome to the House of Vans.
Twenty: 20 photographs of 20 skaters- all wearing Half Cabs shot by 20 photographers, all auctioned off to raise money for A.Skate.  My personal favorite: Fred Gall.  Switch 5-0 down Hubba Hideout.
Mike Carroll.  Japan
Mark Gonzalez.  Gonz stuff
Customized Half Cabs by artists, skaters and fans from all over the world.
The bowl got destroyed.
I got there a little too late for an uncut pic of the Half Cab cake.
But not too late for the food trucks outside.
There was a grilled cheese truck serving up 6 kinds of gourmet grilled cheese sandwiches.  I ate about 8.
Jimmy McDonald did a a pretty good job too.
Vans commander and chief, Steve Van Doren was behind the grill as usual serving up hot dogs and burgers.
The stage was set.  You would either have had to been a skater from the late 80's/early 90's to know who the bands playing were or were a huge fan of the first Tony Hawk Pro Skater soundtrack.
Drunk Injuns.
Agent Orange with Steve Caballero.
Fanned out on Lance Mountain.
. . . Jeff Grosso and John Lucero.
What would you do after leaving an all you can eat grilled cheese party in Brooklyn when you got back to Manhattan?
Mikey's Burgers for a lamb burger, satay style onions, jalapenos and peanut sauce.  Lights out.
Early AM push to back to the L.E.S. Skatepark.
Much better.
The homie Bart from Vans took us to a great little spot called Cheeky's for lunch . . . mid session.
Braised beef rib, heirloom tomatoes, arugala and horseradish on Challah Bread.
Chicken, sausage gravy and pickled cabbage on a biscuit.  No, I not just one sandwich for lunch.  Two.
Image what skating thru the streets of New York felt like after those two.  Amazing, that's what.  Not crapping my pants while dodging thru traffic after that was my best trick of the day.
Tribeca Skateplaza.
Beer to beat the heat.  5-Hour Energy to beat the 'itus.
Gary made a new friend.
A 10 month old St. Bernard puppy that was bigger than him.
Pile 6 dudes in an Audi, head to Brooklyn then go back to traveling the old fashioned way.
Never a bad time skating under bridges, falling in bum piss and learning to navigate DIY cement transitions.  Thanks to everyone who built up the BQE.
The spot was called Best Pizza- we had to stop for slices.  4 cheese white pizza with caramelized onions.  It took 3 of us weighing on how to spell "caramelized" before I got it right for my Instagram post.
After skating all day and eating just as much, Eric, Colbert and Geech rolled back to the 610.  I skated across the Williamsburg bridge for the first time.
Max Fish and Vans were hosting an after show called "Love & Guts" with members of the Bones Brigade.  See, that's Steve Cab.  Trust me, that's him.
This is Chris Miller, OG NY Local and East Coast marketing head for The Hundreds, Alex Corporan and a few other people.
This is a still from Dennis Busenitz's 1 minute long line at 3rd & Army.  16 tricks that spanned the length of the spot, twice.
3am, last call at the Meatball Shop.  Lights out.
New York always looks good from the 14th floor.
Arrived at the Chelsea Piers Skatepark for Bowl-A-Rama and guess who's walking out . . .  Steve Caballero.  Holding boxes of his own shoe.  I Instagrammed this and he commented on it.  What skater wouldn't fan out on that?
Duane Peters is mellow.
Originally my view of the contest back smith before I got my wristband.
My view from the bleachers with my first wristband.
My view with my 2nd wristband.  Never got the media band though.  By the way, Chris Miller's son- Zach Miller. . . kills it.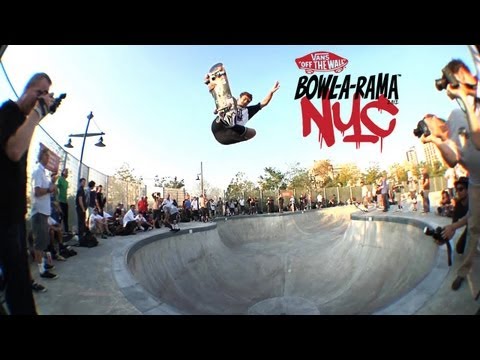 Thraher's coverage of Bowl-A-Rama NYC.  Video of everything else I'm going to post.
Steve Van Doren in the deep end during the Master's Division.
Caballero.
Mountain.
McGill.
Hosoi.
Magnuson.
Kevin Kolowski.
Alex Sorgento.
Pedro Barros.
Masters Division Winners:
1. Lance Mountain
2. Steve Caballero
3. Eddie Elguera
Pro Division Winners:
1. Pedro Barros
2. Alex Sorgente
3. Ben Hatchell
Duane Peters talking to small children is mellow.
Artichoke Pizza with the my Vans reps, Keating & Bart and D-Wray before the night got fuzzy.
Thanks again for everything Vans and NYC.
Bombing.
Back to PA before I have a heart attack.  See all my photos from the Bowl-A-Rama contest below.